Welcome to Q4, 2022 of our MDPI Quarterly series. As the world's leading open access publisher, we are proud to provide scholars the opportunity to publish impactful insights faster.
In this edition of MDPI Quarterly, we recap content from the past quarter, including MDPI reaching the milestone of one million articles published, our celebration of Open Access Week, and the content we have curated to help early career researchers.
Overall, the total number of peer-reviewed articles published from January to December 2022 was 295,046. MDPI closed 2022 with a global workforce of 6750.
Thirty-two journals published their first issues in 2022: Agrochemicals, Alloys, Analytics, Anatomia, Applied Biosciences, Astronomy, Bacteria, Chips, Colorants, Commodities, Dietetics, Drugs and Drug Candidates, Fintech, Grasses, Hydrobiology, International Medical Education, Journal of Vascular Diseases, Meteorology, Methane, Microplastics, Muscles, Organoids, Pharmacoepidemiology, Poultry, Powders, Psychoactives, Receptors, Seeds, Software, Trends in Higher Education, Venerology, and Virtual Worlds .
Four transferred journals released their first issue with MDPI: Thalassemia Reports, International Journal of Plant Biology, Hematology Reports, and Surgical Techniques Development. In addition, 31 journals were accepted for coverage in Scopus: Acoustics, Audiology Research, Agriengineering, Applied Mechanics, Chemistry, CivilEng, Clean Technologies, Clinics and Practice, Clocks & Sleep, Engineering Proceedings, Forecasting, Gastrointestinal Disorders, Genealogy, Humanities, Journal of Risk and Financial Management, Journal of Xenobiotics, Laws, Logistics, Machine Learning and Knowledge Extraction, Microbiology Research, Nursing Reports, Particles, Physics, Prosthesis, Sci, Stats, Telecom, Transplantology, Urban Science, Vehicles, and Vibration.
Stats and the World Electric Vehicle Journal were added to the Emerging Sources Citation Index (Web of Science).
Q4 NEWS & ANNOUNCEMENTS
MDPI BLOG
The MDPI Blog creates useful and relevant information for readers. For example, this quarter, we took a deep dive into topics related to Open Access Week and Early Career Researchers. The slideshows below feature some of the top articles within these two categories.
Recapping Open Access Week
Valuable Resources for Early Career Researchers
MDPI PAPERS CITED IN THE NEWS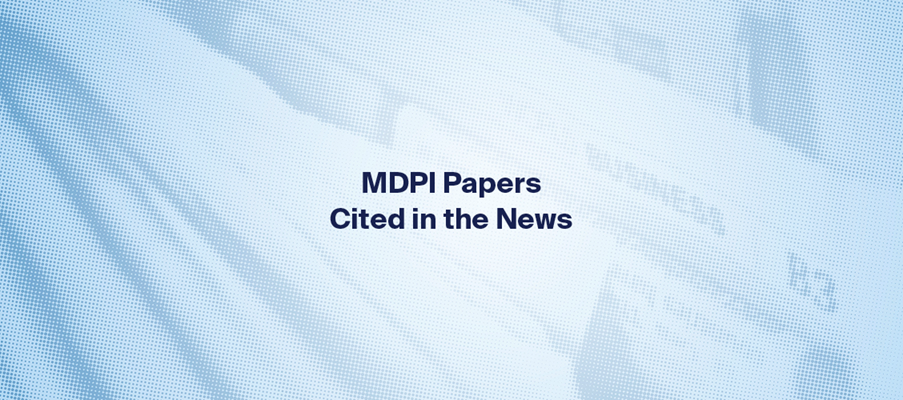 Throughout October, November, and December 2022, notable news outlets cited 1891 MDPI papers. These outlets included National Geographic, The Washington Post, Time, Harvard Business Review, The Guardian, Forbes, and BBC News. Below is a list of some articles from the past three months, along with the MDPI papers cited in these articles.
The Washington Post – "AI and robots could help detect urinary tract infections earlier" (Article | Diagnostics paper)
The Guardian – "Menopause remains taboo in most workplaces. This needs to change." (Article | IJERPH paper)
BBC News – "What would a green World Cup look like?" (Article | Sustainability paper)
Forbes – "Teaming Up Two Biotech Winners to Fight Cancer: CRISPR and CAR T" (Article | IJMS paper)
National Geographic – "Are cures for some of the world's deadliest diseases hiding in our sewers?" (Article | Viruses paper, paper | Antibiotics paper)
The Atlantic – "The Year Without Germs Changed Kids" (Article | Microorganisms paper)
CNN – "Targeted therapy shows benefit for people with advanced breast cancer in late-stage trial" (Article | Cancers paper)
The Washington Post – "Betting on the World Cup? Tips to keep online sports gambling in check." (Article | IJERPH paper)
The Guardian – "'This looks like the real deal': are we inching closer to a treatment for Alzheimer's?" (Article | Biomedicines paper)
BBC News – "How to teach children about risk" (Article | IJERPH paper)
Forbes – "A Psychologist Explains Why Holiday Sales Are So Hard To Resist" (Article | Sustainability paper)
National Geographic – "Pumpkin pollution is a problem—here's what you can do" (Article | Plants paper)
The Atlantic – "Space Might Wreak Havoc on the Human Gut" (Article | Forests paper, Nutrients paper)
CNN – "Slow cognitive decline with flavonols, study says" (Article | Nutrients paper, paper)
The Washington Post – "A quake may have uncovered 30 new dinosaur tracks in Alaska" (Article | Geosciences paper)
Time – "Why Disconnecting From Your Phone Is So Good for You—and How to Do It" (Article | IJERPH paper)
National Geographic – "A deadly monkeypox variant is surging in Central Africa" (Article | Viruses paper)
The Atlantic – "Truffles are Everywhere Now" (Article | Forests paper, Molecules paper)
BBC News – "How an asteroid impact would transform the food we eat" (Article | Nutrients paper)
The Guardian – "Microplastics found in human breast milk for the first time" (Article | Polymers paper)
Forbes – "Is carbon-neutral beef possible or a pipe dream? Soil may offer clues." (Article | IJMS paper)
MDPI Papers Cited in the News, 2022 – November, October, September, August, July, June, May, April, March, February
Future directions
Looking ahead, we are excited to be releasing the MDPI 2022 Annual Report. This will cover last year's news and metrics, and be available in both digital and PDF formats.
Keep up to date with MDPI: scroll to the bottom of this page, enter your email, and hit 'Subscribe'.