Featured Journal of the Month—Viruses
We are pleased to announce the Featured Journal of this Month—Viruses.
Dr. Eric O. Freed, the Editor-in-Chief describes Viruses as "a leading open-access journal with a broad scope that encompasses all of virology". He emphasizes the journal's Special Issues, which are usually guest edited by well-established virologists who invite experts from their field to review a timely topic or to publish their last research. Starting recently, some Special Issues such as "Recent Progress in Bunyavirus Research" are available in book format. The journal publishes reviews, regular research papers, communications, conference reports, short notes and commentaries.
Viruses is a monthly open access journal of virology from MDPI. Since its inception in 2009, 1,880 articles have been published, 530 of them cited 10 times or more (h-10 index). The current Impact Factor is 3.465, and the five-year impact factor is 3.640. Viruses is ranked by Clarivate Analytics (former Web of Science) as 11/33 (Q2) in the category 'Virology'.
In the following, we present a selection of recently published papers that highlight the latest research in the field of virology.
Karin Hoppe-Seyler, Julia Mändl, Svenja Adrian, Bianca J. Kuhn and Felix Hoppe-Seyler
Oncogenic types of human papillomaviruses (HPVs) are major human carcinogens. The expression of the viral E6/E7 oncogenes plays a key role for HPV-linked oncogenesis. It recently has been found that low oxygen concentrations ("hypoxia"), as present in sub-regions of HPV-positive cancers, strongly affect the interplay between the HPV oncogenes and their transformed host cell. As a result, a state of dormancy is induced in hypoxic HPV-positive cancer cells, which is characterized by a shutdown of viral oncogene expression and a proliferative arrest that can be reversed by reoxygenation. In this review, these findings are put into the context of the current concepts of both HPV-linked carcinogenesis and of the effects of hypoxia on tumor biology. Moreover, we discuss the consequences for the phenotype of HPV-positive cancer cells as well as for their clinical behavior and response towards established and prospective therapeutic strategies.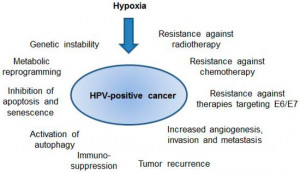 Elma Tchilian and Barbara Holzer
Influenza A virus infections are a global health threat to humans and are endemic in pigs, contributing to decreased weight gain and suboptimal reproductive performance. Pigs are also a source of new viruses of mixed swine, avian, and human origin, potentially capable of initiating human pandemics. Current inactivated vaccines induce neutralising antibody against the immunising strain but rapid escape occurs through antigenic drift of the surface glycoproteins. However, it is known that prior infection provides a degree of cross-protective immunity mediated by cellular immune mechanisms directed at the more conserved internal viral proteins. Here we review new data that emphasises the importance of local immunity in cross-protection and the role of the recently defined tissue-resident memory T cells, as well as locally-produced, and sometimes cross-reactive, antibody. Optimal induction of local immunity may require aerosol delivery of live vaccines, but it remains unclear how long protective local immunity persists. Nevertheless, a universal vaccine might be extremely useful for disease prevention in the face of a pandemic. As a natural host for influenza A viruses, pigs are both a target for a universal vaccine and an excellent model for developing human influenza vaccines.
Lena Allweiss and Maura Dandri
Chronic hepatitis B virus (HBV) infection continues to be a major health burden worldwide; it can cause various degrees of liver damage and is strongly associated with the development of liver cirrhosis and hepatocellular carcinoma. The molecular mechanisms determining HBV persistence are not fully understood, but these appear to be multifactorial and the unique replication strategy employed by HBV enables its maintenance in infected hepatocytes. Both the stability of the HBV genome, which forms a stable minichromosome, the covalently closed circular DNA (cccDNA) in the hepatocyte nucleus, and the inability of the immune system to resolve chronic HBV infection are believed to be key mechanisms of HBV chronicity. Since a true cure of HBV requires clearance of intranuclear cccDNA from infected hepatocytes, understanding the mechanisms involved in cccDNA biogenesis, regulation and stability is mandatory to achieve HBV eradication. This review will summarize the state of knowledge on these mechanisms including the impact of current treatments on the cccDNA stability and activity. We will focus on events challenging cccDNA persistence in dividing hepatocytes.