Viruses 2018—Breakthroughs in Viral Replication Conference Successfully Closed
We had a great time attending the conference Viruses 2018—Breakthroughs in Viral Replication, held in Barcelona, Spain, from 7 to 9 February 2018. Organized and sponsored by MDPI and Viruses, it was a great success, attracting over 200 participants from 33 different countries.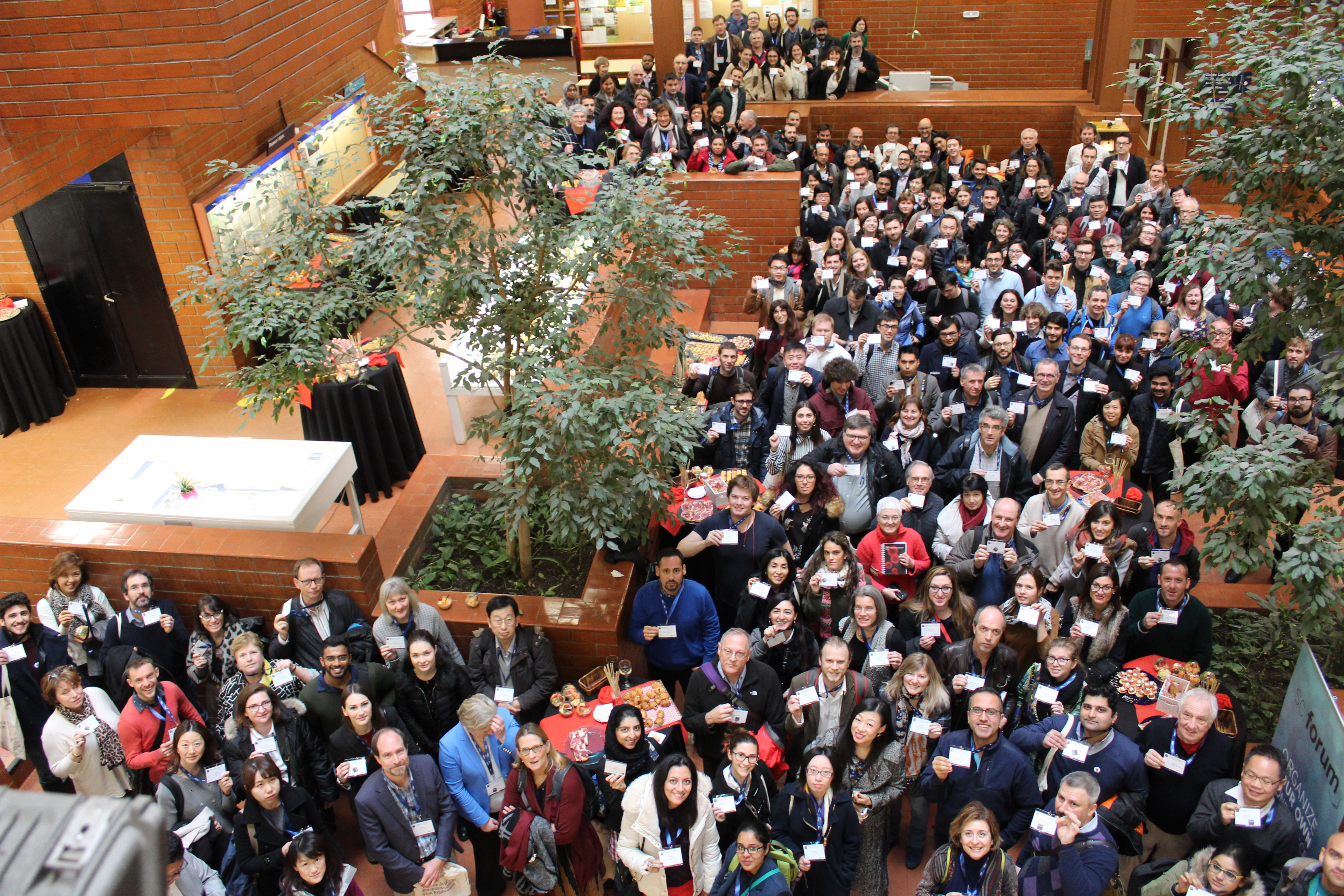 The conference was chaired by Dr. Eric O. Freed (NIH, Editor-in-Chief of Viruses) and Dr. Albert Bosch (University of Barcelona) and enabled participants to focus on the latest research developments in the field of viral replication. The six conference sessions included 55 oral presentations and a total of 139 posters were displayed across four floors.
From the 55 oral presentations, 20 were invited talks, including the one from the Viruses Young Investigator Award Winner 2017, Dr. Andrew Ward, and entitled "Structure, Function, and Immune Recognition of the Enigmatic HIV Envelope Glycoprotein".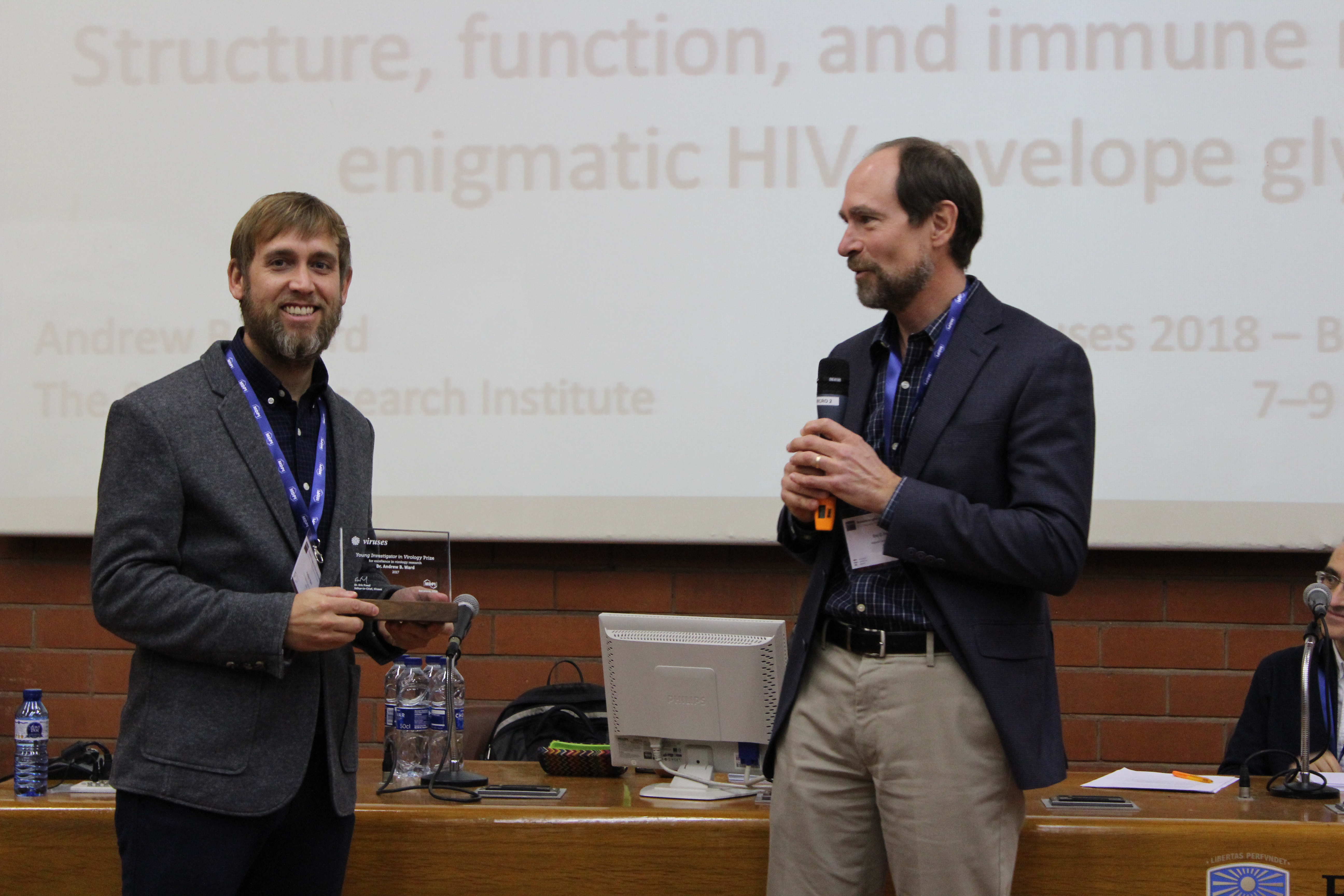 Speaker Andrew Ward receiving the 2017 Young Investigator Award from the conference chair Eric O. Freed.
The Scientific Advisory Committee awarded a prize of 500 € (sponsored by Pathogens) for the best oral communication to Dr. Pietro Scaturro, who spoke on the topic of "An Orthogonal Proteomic Screen of Zika Virus Uncovers Novel Host-Dependency Factors".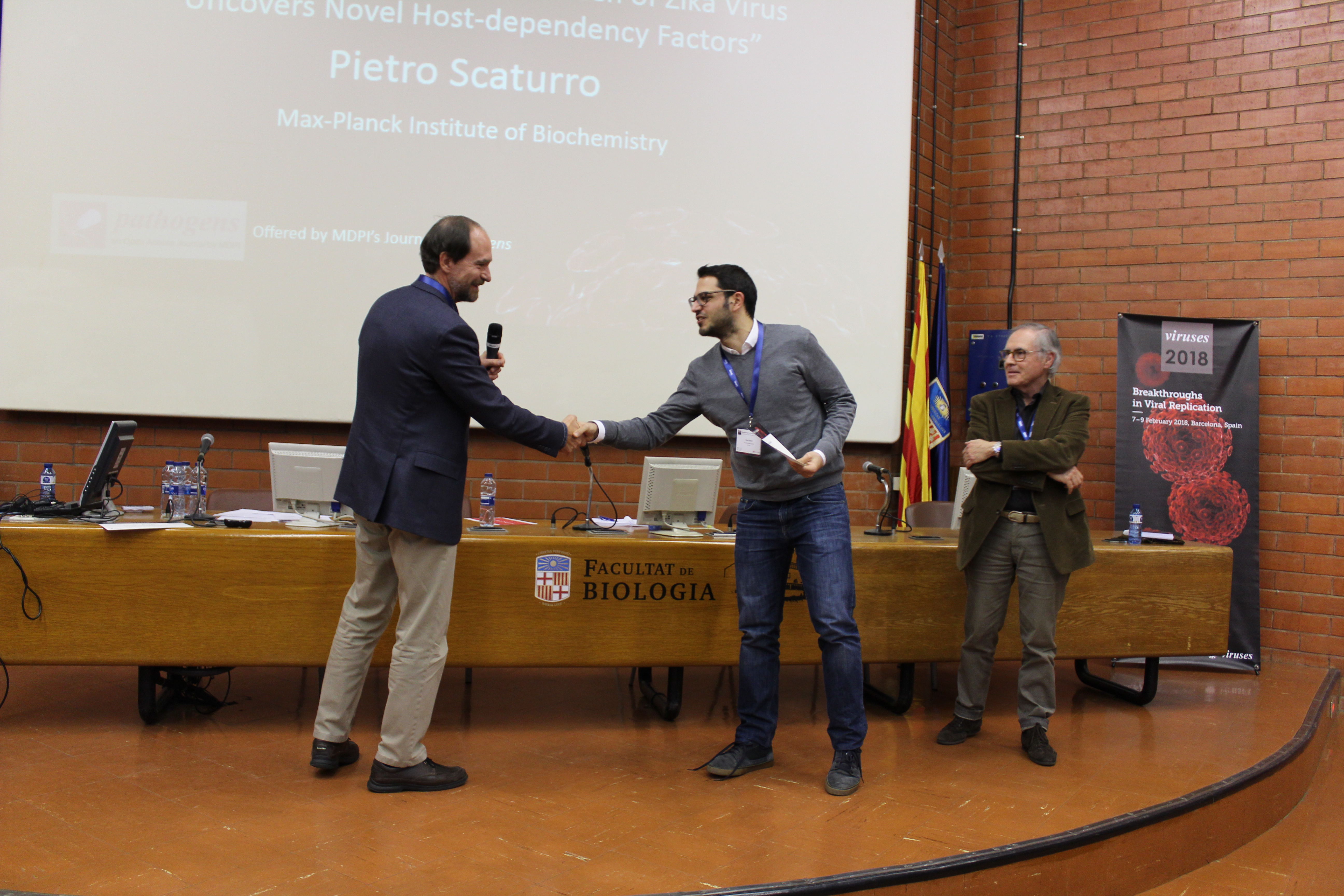 Conference chairs Eric O. Freed and Albert Bosch giving the Best Oral Communication Award to Pietro Scaturro for his talk.
The Best Poster Award (300 €, sponsored by Vaccines) was voted for by all attendees of the conference. The winner was Mr. Jamie Royle, for his work entitled "Glucose Regulated Protein 78 (GRP78) Interacts with Zika Virus Envelope and is Required for a Productive Infection".
The organisers would like to thank the following partners for their generous support: Sanofi Pasteur, GeneTex, Sociedad Española de Virología, Microbiology Society, Technology Networks, medGadget, Barcelona Turisme Convention Bureau, Universitat de Barcelona, the Journals Viruses, Pathogens, Vaccines, Tropical Medicine and Infectious Disease, IJMS, Diseases, Fungi and Microorganisms. We would also like to extend our gratitude to the conference chairs and to the scientific committee: Dr. Sandra K. Weller, Dr. Carolyn Coyne, Dr. Sara Cherry, Dr. Ralf Bartenschlager and Dr. Felix A. Rey.
Thank you to all who attended this three-day event and made it such an enjoyable and informative occasion. We are pleased to announce that we are already planning the next edition for 2020, more details will be announced soon.