The 2021 Impact Factors of MDPI Journals
The MDPI 2021 Impact Factors (IFs) were released on 28th June.
The IFs are released every year and are produced by Clarivate as part of their annual journal ranking list, called Journal Citation Reports. An IF indicates the average number of citations per paper within a journal, from the past two years (according to data indexed within Web of Science).
These rankings are important to researchers, as the more citations a journal has, the greater its visibility across the academic community—and beyond. Clearly, this makes a difference when deciding which journal to submit to. Everyone wants their work to have the greatest impact possible.
With this latest release, many of MDPI's journals have now been given their very first Impact Factors. This year, 13 new journals joined the 85 other journals already ranked by Clarivate.
An outstanding 98 MDPI journals now have Impact Factors. This marks a promising overall increase. The full list of MDPI 2021 Impact Factors can be found on MDPI.com.
Additionally, the overall Impact Factor scores for MDPI have increased this year. The average IF of all MDPI journals increased to around 4.058, with the highest IF increasing to 7.675.
Top Ranking MDPI Journals
Antioxidants
Antioxidants leads the way with an excellent Impact Factor of 7.675. This is an increase from 6.313 last year—a growth of 21.6%. Antioxidants focuses on oxidative stress and antioxidant defense systems.
The journal is affiliated with the Israel Society for Oxygen and Free Radical Research. MDPI regularly collaborates with societies to publish their work in journals.
Cells
Cells follows closely behind with an Impact Factor of 7.666. It publishes work on a variety of cellular topics, including cell anatomy and physiology.
Nutrients
Nutrients also has a fantastic Impact Factor of 6.706. First published in 2009, it covers nutrients' effect on the human body.
Cancers
The top IF journal last year, Cancers has remained consistently well-cited this year, with an Impact Factor of 6.575. The research in this journal is making real progress towards changing clinical practice. For example, one recent publication in Cancers finds that cancer is not as genetic as once thought.
Pharmaceutics
Lastly, Pharmaceutics received an impressive Impact Factor of 6.525. This high-quality journal publishes papers within the scope of the science and technology of pharmaceutics and biopharmaceutics.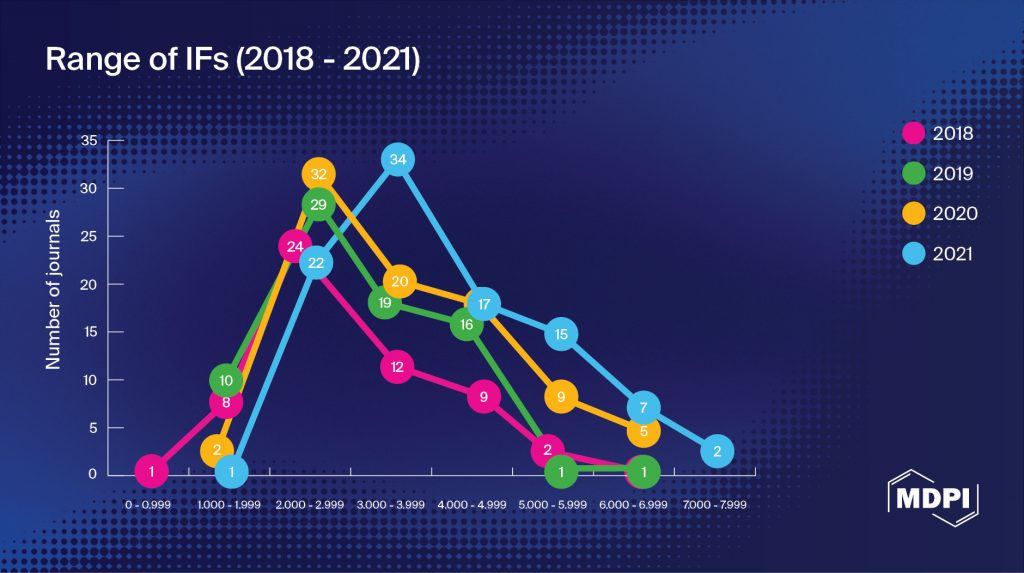 What Does This Mean for MDPI Journals?
MDPI journals continue to strive for excellence in research dissemination and recognition.
Increasing the Impact Factors of MDPI journals means increasing the impact and readership of authors' research. Therefore, we are constantly striving to improve the Impact Factors year on year. This helps us increase manuscript visibility for both past and current authors.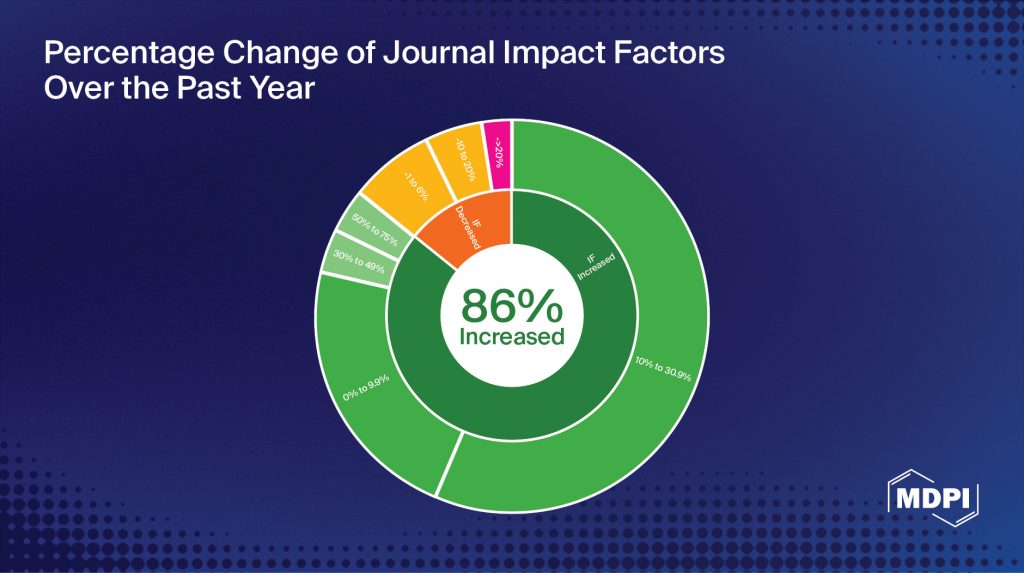 However, increasing the Impact Factor is only part of this journey. Improvement is also based on author feedback, a focus on increasing authorship, and a culture of continuous improvement across journals.
How to Submit Research to MDPI's High-Impact Journals
With 98 MDPI journals now given a prestigious Impact Factor, it's the ideal time to make the most of this visibility.
Information about the Impact Factors of MDPI journals can be found easily online. Each journal lists its Impact Factor on its journal homepage, and within the "Journal Statistics" menu.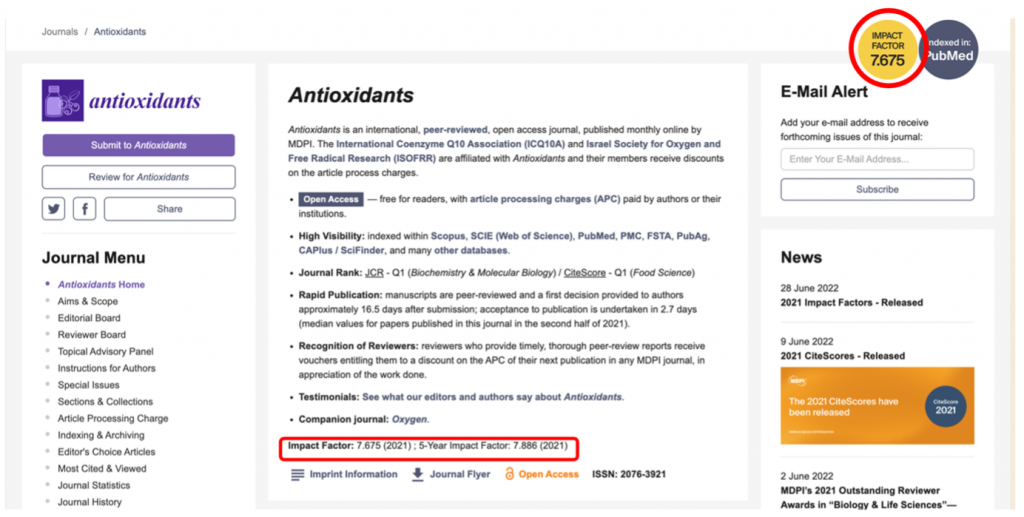 The Impact Factor of Antioxidants, as shown on the journal webpage.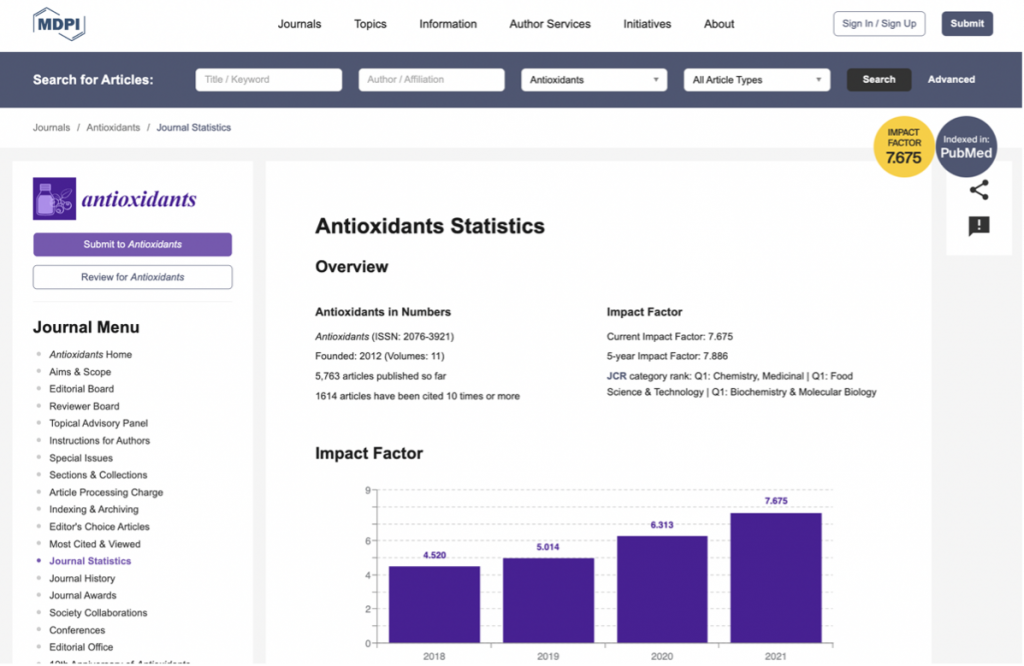 The Journal Statistics page for Antioxidants, which shows an overview of the journal's statistics.
You can also find a full updated list of the MDPI journals with Impact Factors on the official announcement page.
Once you have found the journal you wish to submit to, you can use the Submit button on the journal's webpage to begin the manuscript submission process.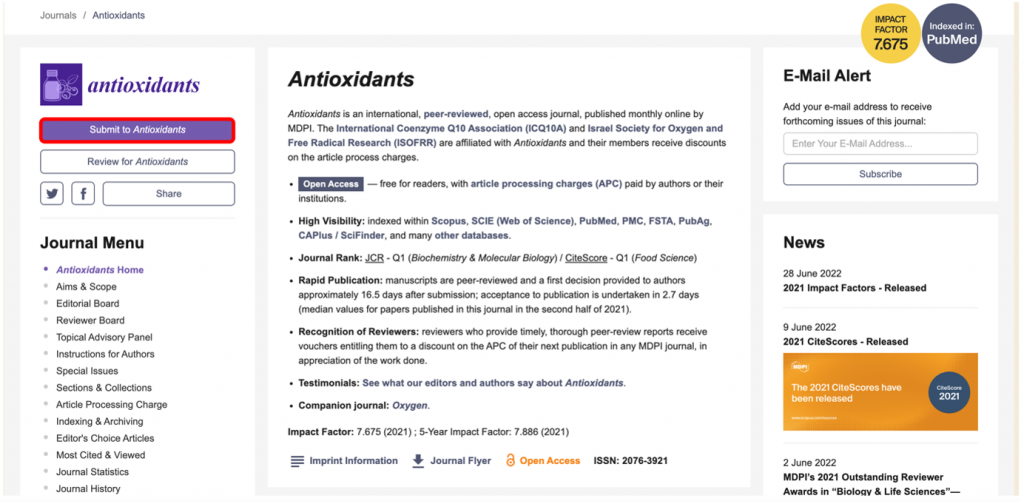 The Submit button on the Antioxidants webpage.