Peer Review Week: Research Integrity
How important is research integrity? Important enough that it was voted as this year's Peer Review Week theme! This year, MDPI is celebrating the peer review process and discovering new ways to improve how it's conducted.
Each annual peer review celebration has a theme. This year's theme is "Research Integrity: Creating and supporting trust in research".
Research integrity is crucial to academic success—here's why.
Defining Research Integrity
Before we dive straight in, we need to define 'research integrity'.
If you're reading this, you probably know what research is! It's a continuous evolution of study and investigation leading to concrete conclusions on a particular subject.
Integrity, meanwhile, refers to a core ethical and moral standing. This includes being honest, even when nobody's watching.
Thus, research integrity means that research is conducted honestly and ethically. This means the absence of bias and prejudice.
Why Research Integrity is Important
Clearly, research integrity is important because it's the right thing to do. Being honest and ethical during the submission process is expected by everyone in the academic community – and so it should be.
But there are also benefits to research integrity.
It ensures that researchers are comfortable and confident. If the community is guaranteed that the peer review process is carried out with academic integrity, it means that research becomes more trusted for citation use. This is vital to increasing the amount of research published, and the quality of that research, too.
This is important to us, and we're dedicated to building trust in research. In fact, in June this year, MDPI Publications released the Special Issue 'Publication Ethics and Research Integrity'. It covered preventing bias, perceptions of open access, and the ethics of research.
Nicole Palmer, Special Issue Editor, states, 'Peer review, an essential part of assessing the quality of academic outputs, has been shown to be an unreliable judge of excellence.  Statistics show that the majority of initially rejected manuscripts will ultimately be published, most of them in a journal of similar status, and some with little or no revision.'
It's up to us to continue to investigate these issues that frequently pop up in the academic community, make them known, and work to secure a future with greater research integrity.
How Research Integrity Can Be Compromised
Research integrity is tied to ethics. MDPI has many ethical guidelines, and an ethical board that monitors journal operations.
In recent times, manuscript publication has become very closely linked with academic career progression. Budding PhD candidates and young researchers are looking for new ways to prove their academic prowess. One way in which they can do this is by reviewing for an academic journal. It adds legitimacy to their expertise and therefore helps to advance their career.
At MDPI, we recognise and sympathise with this desire for progress, and we're happy to provide a space for young researchers to get their start.
However, it does make the motivation for publication more complicated. Publishers need to ensure that reviewers have the correct level of expertise in the field. However, when career academics are eager to review, there's a risk that publishers motivated by money could take advantage of this, with no regard for research integrity or trust in research.
In some cases, this is hidden from the author and the academic community at large. The Peer Review Week team explains that being transparent about how the peer review process works can help improve research integrity.
MDPI's Focus on Research Integrity
We hope that, by shedding light on how our peer review process works over this year's peer review week, we can contribute to the promotion of academic integrity.
It's also important to look at our own peer review process. We manage the peer review process with care, making sure that each reviewer is selected based on their expertise in the field. This does sometimes mean that we have to decline authors' reviewer requests. It can also increase processing times. Although uncommon, we occasionally need to wait for the right reviewer to find time in their schedule.
MDPI takes a proactive approach to the publication pipeline, including peer review. There are guidelines for authors, reviewers, and academic editors. We also have a complaints procedure, allowing us to be held accountable on the rare occasion that things don't go as expected.
Research Integrity and the Wider Community
The theme of research integrity was chosen by the academic community via an online poll, organised by the academic community. Yes, more than 35 separate research organisations come together each year to plan the week, with the faithful hope that it will make a difference to how peer review is conducted.
In the end, 29.2% of respondents were in favour of research integrity as a theme for this year.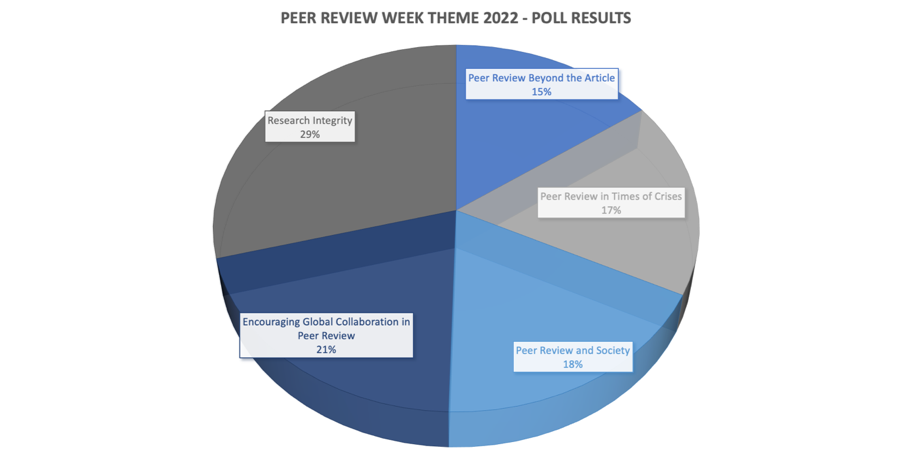 The organisers have indicated that Peer Review Week will involve integrity-centric events and activities hosted by institutions, publishers, and researchers. This includes this blog series, where we share our insights into peer review and research integrity.
The aim is to get to the heart of what research integrity is and how it can be demonstrated.
Peer Review Week encourages us all to reflect on peer review and how it is conducted. It also emphasises how important peer review is to academia. It helps improve the quality of research, as well as allowing scholars to keep abreast with advances in their fields. The importance of a high-quality peer review with integrity is therefore undeniable.
Using the focal point of the annual theme, we can work to improve peer review each year.
Themes and their Impact
In the past, Peer Review Week has discussed various issues.
Last year, the theme was 'Identity in Peer Review', with the idea being that all backgrounds and representations be accepted. The choice of reviewer should not be influenced by prejudice or personal bias in any way.
Before this, trust, quality, diversity, transparency, and recognition were all featured. These represent core values of the peer review process, and of research in general.
In the years to come, we expect themes to become even more focussed on the issues that unfortunately abound in peer review, including the time and diligence paid by scholars when reviewing manuscripts.