Wrap-Up of the Fourth Basel Sustainability Forum: Health (BSF 2019), 3 June 2019, University of Basel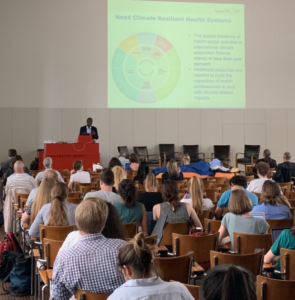 The Fourth Basel Sustainability Forum: Health (BSF 2019) took place in the Aula of the Kollegienhaus of the University of Basel, Switzerland, on 3 June 2019. The forum kicked off with opening statements by three young climate activists from the Klimastreikbewegung Basel, reminding everyone that there is no alternative to climate action but to act now! Up next with official opening statements were Lukas Engelberger, Head of the Department of Health Canton Basel-Stadt and member of the Swissmedic Agency Council, and Torsten Schwede, Vice President for Research at University of Basel, each with considerations of sustainability issues regarding health in their context, i.e., policy and research, respectively. These introductions opened the floor for our presenters to make a case for concerning ourselves with sustainable health goals.
We were fortunate enough to hear from eight experts in their fields promoting health, sustainability and our newly reformulated role in what needs to be a globally recognized movement. Before lunch, the presenters included: Professor Milo Puhan, Director of the Epidemiology, Biostatistics and Prevention Institute of the University of Zurich, Switzerland; Christine Kopp, Head of the Department of Health and Integration of the Swiss Red Cross; Hans-Florian Zeilhofer, Professor and Associate Vice President of Innovation of the University of Basel and Chief Surgeon for mouth, jaw and facial procedures at the University Hospital of Basel; Liz Derks, Program Manager of Impact Hub Basel; and CEO and Project Director at Creative Youth Community Development, founder of SDG Solution 17, and lead for Nigeria at the World Health Innovation Summit in Nigeria, Foluke Michael.
In the afternoon, the following presenters took the stage: Klaus Leisinger, President of the Global Values Alliance Foundation and Professor of Sociology at University of Basel; Jeff Smith, consultant for the World Health Organization in Geneva, Switzerland, an expert in air quality monitoring, part of the BreatheLife Campaign, the Urban Health Initiative and Sustainable Advocacy; Professor and Head of the Ecosystem Health Sciences Unit of the Department of Epidemiology and Public Health of Swiss TPH in Basel, Guéladio Cissé; and Eric Comte, Executive Director of the Geneva Health Forum.
The variety of speakers made visible the many facets of the umbrella category 'sustainable health', which encompasses topics such as pollution and education, connects the pharma and medical device industry and relates directly to global communication and urbanization. To take the example of urbanization: how is health related to cities? According to Jeff Smith, one of every four deaths is related to how our cities are designed and maintained. This example shows that to begin formulating the sustainable, innovative solutions we so desperately need, academia, politics and the private sector must come together. The BSF location Basel is a hub of stakeholders, big players of the pharmaceutical industry (including Novartis and Roche), the health insurance industry, medical device companies, and research, academic institutions and foundations. In addition, international organizations like the United Nations and the World Health Organization are just a train ride away in Geneva. Through collaborations with some of the above mentioned groups, our experts truly believe that innovative health solutions are near at hand—interoperable, global solutions that can be at our fingertips with just the touch of a button. We are, as the climate striker youth and each presenter made clear, at a turning point and we can chose to act or ignore, but they choose to act.
We ended BSF 2019 with a Multi-Stakeholder Roundtable Discussion during which Foluke Michael had a powerful message for us: Coming together to debate health in Switzerland is not enough. What will we have to report in six months or a year? After hearing the statistics and the central issues from the leaders who joined us, what will we now showcase to the world? We must take this further and we must do it together.
Acknowledgements: The Fourth Basel Sustainability Forum: Health was organized by the University of Basel, the Fachstelle für Nachhaltigkeit, Universität Basel, and the MDPI Sustainability Foundation. This event was sponsored by the MDPI journals Sustainability and Environmental Research and Public Health, Basel Culture Unlimited and the Foundation Global Values Alliance. Additional support for this conference came from the Swiss Tropical and Public Health Institute (Swiss TPH), the Sustainable Development Solutions Network (SDSN), the Universitätsspital Basel, the Schweizerische Akademie der Geistes- und Sozialwissenschaften (SAGW), and the Sustainable Corporate Responsibility (SCORE) research program of the Social Research and Methodology Group of the University of Basel. The event was in cooperation with the Geneva Health Forum: Seventh Edition (April 10-12 2018).
We would like to again thank all of the presenters who took part in this BSF! We would also like to thank our two conference chairs Max Bergman, Chair of Social Research and Methodology of the Department of Social Sciences, University of Basel, and Hans-Florian Zeilhofer (introduced above), moderator Sophie Hersberger, Center for Philanthropy Studies (CEPS), the University of Basel, our additional Roundtable discussion participants Johannes Mosbacher, Professor of Precision Pharmaceuticals and Christoph Ratz, Junior Researcher and PhD Candidate, and, last but not least, everyone who attended this event and volunteered.

#SaveTheDate – The 5th #BaselSustForum on #PrecisionMedicine chaired by @EnkelejdaMiho, Sabina Heuss and Johannes Mosbacher will be held on 11 May 2020 at the @FHNW Muttenz supported by @JPM_MDPI