MDPI at "Academic Publishing in Europe" (APE 2017)
Maria Schalnich and Martyn Rittman
How can we build and grow a sustainable scientific publishing eco-system? How can we react to the needs of multidisciplinary research? How can we capture innovative trends in publishing and use them to meet the needs of authors, editors and reviewers? How can we improve and optimize our processes? Is it time to rethink and to redefine the role of publishers in academia?
Under the theme "Publishing Ethics: Doing the Right Thing—Doing Things Right", the 12th edition of APE, one of the foremost conferences in European academic publishing, was hosted in Berlin in mid-January.
We thank the organizing committee for running a stimulating event. Here are a few of the major themes that emerged: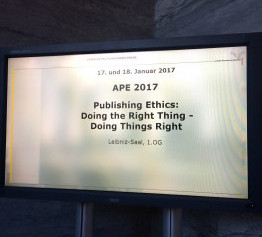 Publishers as service providers, rather than content providers
For open access publishers this is perhaps more apparent, as copyright typically stays with the authors of published articles. This means that the publisher doesn't own any of the content, but acts to validate, edit and disseminate it on behalf of authors and editors. The reporting of research output is thus a partnership between the publisher, the authors and the wider scholarly community.
Progress towards universal open access
On this theme, attendees were split. No-one is quite sure how the increase in open access will pan out in the coming years. Ralph Schimmer from the Max Planck Digital Laboratory set out the vision of OA2020, aiming to have all publicly funded research published in Europe in open access format at the start of the next decade. Others, however, questioned the willingness of some publishers to adapt and highlighted possible complexities in changes to funding procedures and policies.
Innovation
On the topic of 'doing things right', there were a range of new, innovative services on show. One of the most exciting sessions was the one showcasing start-ups. Author services (Peerwith), collaborative reading (Paperhive), related articles (TrendMD), researcher collaboration (Trellis Science), data management (DaMaHub) and award management (Octorank) were on show. A number of sessions highlighted current difficulties for publishers, including dealing with retractions and misconduct, how to improve peer review and how to increase diversity. There are plenty of opportunities for original thinking and innovation to meet the need of scientists and researchers.
Engagement
Richard Horton, Editor-in-Chief of The Lancet, challenged publishers to look at how their activities contribute to solving the world's most challenging problems, such as climate change, the rise of extremist terrorism and poverty. In particular, what can be done to help meet the UN's Sustainable Development Goals?
MDPI has already taken up this challenge, through embracing the theme of sustainability, not least through the journal Sustainability, and sponsoring events such as the upcoming World Sustainability Forum (https://sciforum.net/conference/wsf-6). We believe in supporting broad dissemination of research that will have global impact.
The APE offers a great opportunity to hear inspiring speakers, to be involved into relevant conversations that concern the academic publishing industry, to learn from global players within traditional and open access publishing, and—last but not least—to meet and connect to peers.