What Does My MDPI Manuscript Status Mean?
Manuscript status can be a little bit confusing at times. Submitting your manuscript to an MDPI journal involves hours of research, drafting, and formatting, before finally finishing with a paper that you're happy with and ready to publish.
Once you do submit, it's likely that you'll have questions about when your paper will be published.
As MDPI is processing your manuscript, it will be assigned different statuses. You can log in to MDPI's in-house electronic submission system SuSy to track your manuscript status.
In this article, we will first discuss the overall publishing process, and then describe each manuscript status in detail. This should give you all the answers you're looking for and put you at ease if you find yourself worried about your paper.
What You Can Do to Speed Up Your Manuscript Status
As an author, you will receive email updates when you need to take action. The Assistant Editor for your paper will also update you via email about decisions they make.
You can speed up the publishing process by responding to requests for action as soon as you can. However, we know that authors have multiple responsibilities as researchers, and we aim to be flexible as part of our high-quality publishing service experience.
If you know that you won't be able to make a deadline, you should contact the Assistant Editor (Editorial Office) to ask for more time.
However, we may ask you to withdraw your paper if a round of revisions will take longer than a month. If this happens, you are more than welcome to resubmit your paper at a later date.
Reasons for Potential Delays
It's important to mention that every manuscript is unique. Although some papers pass through the process and hit all the time estimates, others may take longer, for many different reasons.
Sometimes, delays occur when waiting for feedback from reviewers and Academic Editors. As an academic publisher, we rely on members of the research community to make important decisions about author submissions.
However, MDPI carries out most of the publishing steps, from submission to online publication. Our dedicated in-house team completes the administrative work. They offer high-quality administrative support and allow Academic Editors to instead focus on the scientific quality of the manuscripts. Any delays from us are extremely short, allowing MDPI to maintain high publishing speeds.
Publishing times also differ depending on the journal. This is because authors, reviewers, and Academic Editors in different fields of research have their own needs and expectations. In general, social sciences journals have slightly more time-consuming publishing processes than natural sciences journals.
You can find the median publishing pipeline times for each journal in the section "Rapid Publication" on the journal's webpage.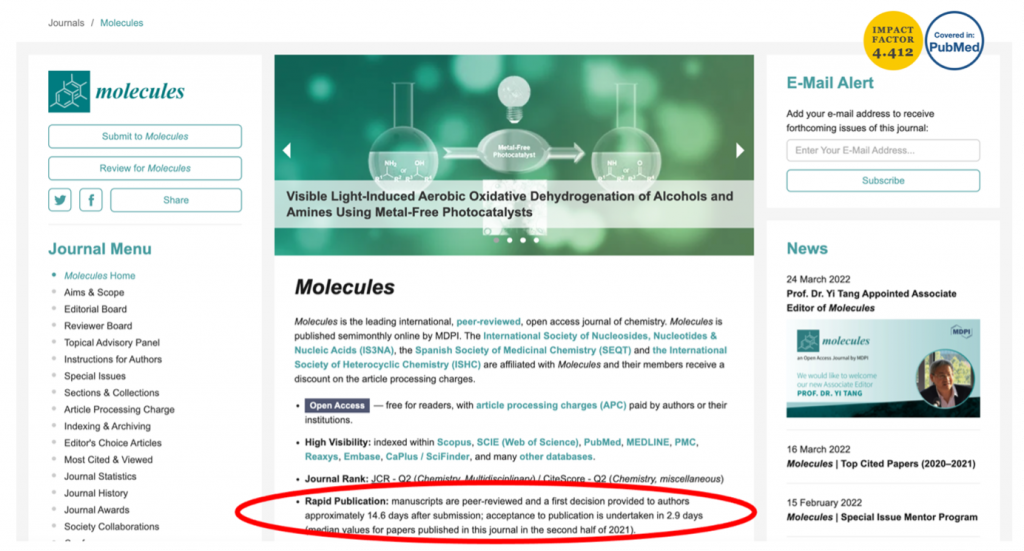 You can also find this information in the "Journal Statistics" section, accessible via the left-hand menu.
Once the journal has accepted your manuscript for publication, the final steps will be completed. The median average for these steps is four days (2021).
Rejection Explained
Something that authors often worry about is manuscript rejection. There are many different reasons why a paper might be rejected during the publication process.
Rejections occur at various stages:
Desk rejection (rejection upon submission)
Rejection before peer review by the Academic Editor
Rejection after peer review
The rejection letter from the Editorial Office will contain important information and instructions for you to follow.
How to Get in Touch About Your Manuscript Status
You can get in touch with the Assistant Editor assigned to your manuscript if you're unsure about the status of your paper. In addition, you can email the Editorial Office if you haven't received feedback from the Assistant Editor in the expected time frame.
However, please be assured that Assistant Editors keep a close eye on submissions and will inform and advise you about your manuscript status.
Click on 'Editorial Office' as shown to find their contact details.

Submission Statuses
Here are the MDPI submission statuses that you might encounter on the SuSy platform.
The Editorial Office has received the manuscript and it is being pre-checked.
It usually takes 1–5 days. Delays may be a bit longer if the Managing Editor needs to double-check any information. Please contact the Editorial Office if it has been five business days and an Assistant Editor has not yet been assigned to your submission.
This manuscript status indicates that a paper has been pre-checked and is now being peer-reviewed. This status also applies to second review rounds (revised version reviews).
The first round of reviews usually takes around two to three weeks. At MDPI, we try to find 2–3 professional and efficient reviewers within the first week of sending out invitations. Our agreed reviewer time ranges from one to two weeks (depending on the journal), but we are flexible if reviewers require more time.
Because this step is out of MDPI's hands, delays can sometimes be slightly longer. However, the Assistant Editor will continue to contact reviewer candidates until enough reviewers agree. Our editors are trained to find quality review candidates. Assistant Editors also communicate with reviewers and Academic Editors to see if they can recommend a colleague who would make a good reviewer. The Assistant Editor will also ensure that reports are collected as agreed and will inform authors if any delays are expected.
Revised reviews will be completed in around three working days, considering that reviewers are already familiar with the content of your paper, but we are flexible if reviewers require more time.
This manuscript status means that the Academic Editor is assessing the peer review process.
It usually takes 1–2 days. It may take longer than expected if the Academic Editor has a particularly high workload. If you find yourself waiting for more than a week, it's best to contact the Assistant Editor for an update.
Pending major or minor revisions
The Editorial Office is waiting for your revised manuscript. As an author, this manuscript status means that it's time to review your manuscript and edit it using the comments provided.
We expect to receive revisions within 5 days (for minor revisions) or within 10 days (for major revisions). This is inclusive of weekends and holidays. If you cannot return the edited manuscript and/or responses within the agreed time, you can get in touch with the Assistant Editor, who may be able to grant you an extension.
The Academic Editor is making a final decision about your paper. They will consider the latest version of the manuscript, as well as the completed peer review process.
This manuscript status usually lasts around 1–2 business days. There may be delays based on the Academic Editor's workload and availability upon a decision request. If you find yourself waiting for more than a week, you may wish to contact the Assistant Editor.
This manuscript status means that your manuscript has officially been accepted for publication. Congratulations! A professional Layout Editor is now working on the formatting.
Around 1–2 days. This may take a bit longer if Layout Editors are busier than usual, however we have measures in place to avoid delays—even if any editors on the team are on leave.
The paper has been edited by a native English Editor. This is a mandatory step in the final stages of each paper, with no additional fee.
Around 1–2 business days. If you find yourself waiting for more than two days, please contact the Assistant Editor, who will investigate the status of your paper and invite an English editor to proofread it.
Language and layout edits, including typography, abbreviations, image quality, and referencing order edits have been made by the Editorial Office for you to review and confirm. This is your very last chance to edit the paper.
We have a 24-hour window for this step. However, we will allow extra time if you need it. Please contact the Assistant Editor if you require an extension. Otherwise, we will send all co-authors a daily reminder.
Author proofreading – resubmitted
Thank you for submitting your proofread manuscript. The Assistant Editor will accept the final changes and double-check that everything is correct before the paper is published.
This takes priority for Assistant Editors. They aim to complete it in 12–24 hours. If it takes any longer than 24 hours, the Assistant Editor will contact you to let you know. Any pending edits or misunderstandings will be addressed via email before the paper is published to avoid post-publication edits.
pdf2xml / Pending conversion
This stage refers to an internal process. Every MPDI manuscript is converted into different formats, ready for publication. This takes around 24 working hours, but can vary depending on staff schedules.
We hope that this breakdown helped you to understand your manuscript status. If you have any questions specific to your paper, please reach out to the Assistant Editor assigned to your manuscript. You can find their details on SuSy.