France's Pledge to Stop Single-Use Plastic
As of the 1st January 2022, France has banned the sale of the majority of fruits and vegetables wrapped in plastic.
The government of President Emmanuel Macron has made the decision to implement the new anti-waste law with the aim to curb the use of single-use plastic, which ends up in landfill or spills into freshwater and soil, with devastating environmental effects. This follows its previous ban of plastic cutlery, cups, and straws, and Styrofoam takeaway packaging, in 2021.
France has made impressive headway in the fight for sustainability and has expressed hope that other countries will follow suit—a refreshing turning point in the game of blame-shifting tennis played between the consumer and policymaker. This is reflected in Single-Use Plastic Bans: Exploring Stakeholder Perspectives on Best Practices for Reducing Plastic Pollution in Environments, which conducted studies in Slovenia and Norway to gather the opinions of current and future-generation stakeholders on approaches to reduce plastic production. It was found that industry stakeholders were generally accepting of plastic-reduction policies, but placed more responsibility on the scientific community to conduct research and propose meaningful action, whereas future-generation stakeholders focused more on purchase patterns of single-use plastic at the consumer level.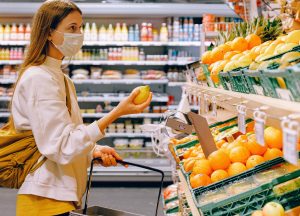 In total, 30 fruits and vegetables are included under the new restrictions, excluding more delicate food items, such as berries and salad, and those sold in amounts of 1.5 kg or more, although it is said that the law will be extended to all fruit and vegetables by 2026. This creates an urgent need for more sustainable packaging solutions as the use of plastic is gradually phased out. It has been posited that the reform will get rid of 1 billion plastic waste items every single year. Impacts of Plastic Pollution on Ecosystem Services, Sustainable Development Goals, and Need to Focus on Circular Economy and Policy Interventions in Sustainability investigates how the ever-increasing level of plastic pollution is impacting aquatic and terrestrial ecosystems, and all lifeforms, detailing different strategies to mitigate these issues.
However, the ban has been met with some backlash, with some stating that the COVID-19 pandemic is not the right time to impose new regulations, fearing that the lack of impermeable packaging could lead to the contamination of fruit and vegetable produce. It may also result in organic food products being exposed to those that have been treated with artificial chemicals. Another opposing argument is the risk of fruit and vegetables that are sold in bulk being subjected to more potential degradation, possibly leading to increased food waste. Plastic Food Packaging: Perceptions and Attitudes of Portuguese Consumers about Environmental Impact and Recycling in Sustainability explores the views and habits of consumers regarding plastic packaging in Portugal via a survey to gain information on citizens' sustainability practices, recycling, and knowledge of the effects of plastic materials on the environment..
We believe that research should be made available for all, free of cost or access barriers. If you found this topic interesting, under our open access policy, you can visit MDPI.com and freely search scientific research papers linked to this topic. All articles are free to access and download.