World Sustainability Awards Winners – A Short Interview
The second World Sustainability Awards were presented during the 7th World Sustainability Forum in Beijing, China on 19 September 2018. These awards recognized the winners' outstanding contribution to sustainability and were evaluated by a selected committee consisting of seven members.
Dr. Mathis Wackernagel and Dr. Zhifu Mi were the joint recipients of the 2nd World Sustainability Award. Dr. Mathis Wackernagel received two thirds of the prize and Dr. Zhifu Mi one third.
Dr. Wackernagel is the president and co-creator of the Global Footprint Network. Since 1997, he has advanced the Ecological Footprint for countries through the National Footprint Accounts. Nowadays, these accounts continue to be the world's only comprehensive metric able to compare human demand on nature to what the planet can renew. We had the opportunity to talk to him about the award and his work. He said that the prize is "an enormous honor that will help to get more attention" and says that "it will help us build our next initiative, a global network that will produce the National Footprint Accounts independently (https://footprint.info.yorku.ca/)". He continued:
"The message that we are overusing the planet is hard for people to digest. They want to shoot the messenger. We say – ignoring information never helps you. By understanding our physical context better, we can find strategies that will more likely succeed. Therefore, getting credibility and prominence through the World Sustainability Award is a fabulous boost."
When asked about his views on the future and his forecast for 2050, he answered that "IPCC's report right now confirms that we need to move to a regenerative economy before 2050. This means we need to know our biocapacity because that's what will have to power our economies. We will have to live off the solar income, rather than from depleting the fossil fuel stocks".
The Global Footprint Network reaches over 3 billion media impressions every year with its Earth Overshoot Day, the day in the year on which humanity has demanded as much from nature as the planet's ecosystems can renew in the entire year. Dr Wackernagel is clear that, "we need to emphasize foresight and innovation to help us #MoveTheDate of Earth Overshoot Day". They also run a personal Ecological Footprint calculator which is used by millions of visitors from around the world. This is an excellent idea to make people aware of the magnitude of this issue. He warns that:
"Earth has entered the Anthropocene, a period where humanity's impact on our environment is becoming an indisputable force, shaping our habitat. Climate change, freshwater challenges and biodiversity loss make obvious that the size of the human enterprise has started to overwhelm what the planet can sustainably provide."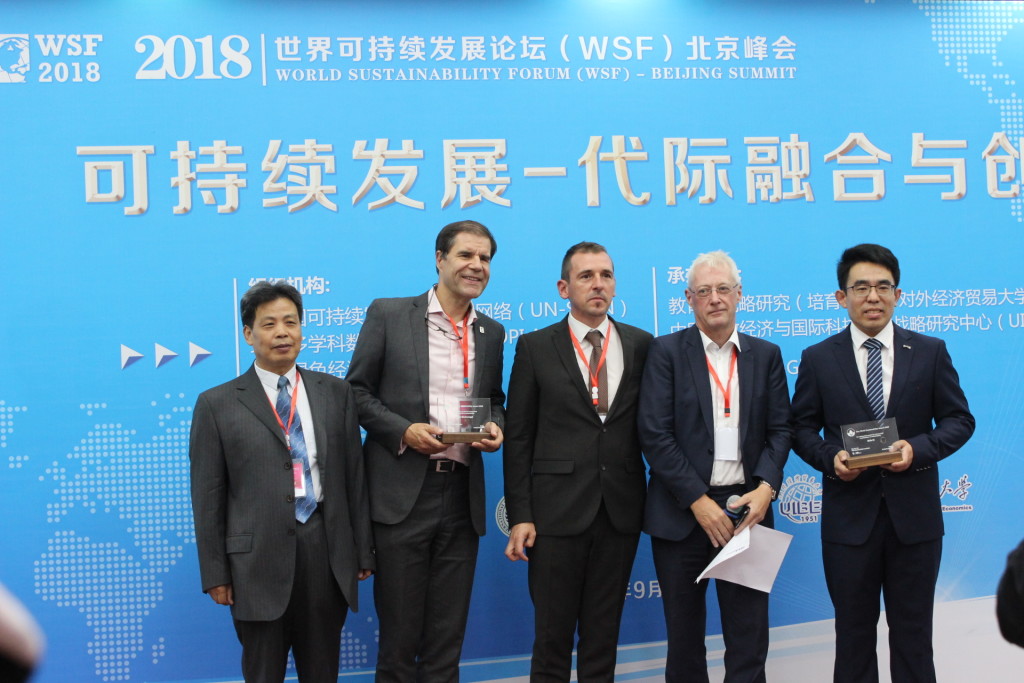 We also had the pleasure of interviewing Dr. Zhifu Mi. He is a Lecturer at The Bartlett School of Construction and Project Management, University College London (UCL). He is co-developer of the China Emission Accounts and Datasets (https://www.ceads.net/), which provides the most up-to-date energy, emission and socioeconomic accounting inventories for China. When asked about the situation in China in terms of pollution he replied:
"China is facing serious environmental pollution issues. More than 1 million people died from air pollution in China in 2012 according to World Health Organisation. China has taken actions to prevent pollutions, and its environment has been improved. For example, the average level of PM2.5 particles – which penetrate deep into the lungs – in 338 Chinese cities fell 6.5% between 2016 and 2017."
Moreover, he is convinced that "CEADs database has drawn wide academic concerns. Many researchers used the CEADs database to analyze China's carbon emissions, energy consumption and environmental issues. These publications might have influences on China's policies".
Finally, he seems to be optimistic about the future of China. He is confident that the Chinese environment will be further improved in the next ten years, "China has entered a new phase of economic development – new normal – which is a development model with lower but better-quality GDP growth". Dr. Zhifu Mi notes that "China is striving to promote economic growth while driving down CO2 emissions by changing economic structures, improving efficiency levels, and cleaning up the energy mix".