How Can We Reduce the Risk of Dangerous Dust on Construction Sites?
According to the WHO, hundreds of millions of people worldwide are exposed to hazardous dust in the workplace.
In the construction industry, dust represents a dangerous health risk to workers, as well as to local residents and passers-by. Even the simplest of tasks, such as sweeping site areas after cutting materials, can cause dust to be dispersed into the air.
Most construction risks are mitigated by a country's government regulations. These risks include injury, hearing damage, and carbon monoxide poisoning. However, dust is an invisible hazard that is rarely considered.
It is not something that should be taken lightly. The constant breathing in of dust can lead to disability, disease, or death.
The level of threat from dust depends on the material that it comes from. For example, silica is a material found in rocks. When these rocks are cut or drilled, they produce silica dust. After asbestos, silica is the second biggest threat to construction health. Lung cancer, silicosis, and chronic obstructive pulmonary disease (COPD) can all be developed as a result of inhaling the substance.
Wood dust is also a hazard, because of its close links to asthma prognosis. Even worse, hardwood dust can cause nasal cancer.
Fortunately, there are ways in which these risks can be reduced.
The Results section of the paper 'Identifying Effective Fugitive Dust Control Measures for Construction Projects in Korea' in Sustainability identifies several different methods of reducing dust hazards. In the study, spraying water over the dust to stop it spreading was very effective. Using plenty of water to reduce dust clouds is a proven technique.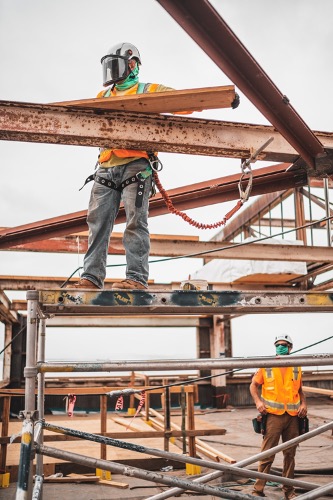 The study also found that, where vehicles are involved, low-speed driving can dramatically reduce the spread of dust. For many types of work, it was found that merely cleaning the facilities and surrounding areas regularly could limit the amount of dust in the air.
There are also specialist tools that can be fit into the drill or saw used. The tools collect dust efficiently while the equipment is in use. Various masks can also help to reduce dust exposure, provided that they are fit for purpose for the amount and type of dust.
There is still hope for the future, as research is continuously discovering new ways to protect workers. A recent Special Issue, 'Dust Explosions in Industrial Processes' in Applied Sciences aims to collect research on several different, related topics, including new experimental methods of mitigating dust pollution.
It goes without saying that governments are responsible for the health of their citizens. This includes dust hazards.
Construction sites are managed differently around the world. For example, in Delhi, India, new construction site rules dictate that all new large construction sites must improve their dust control.
The paper 'Control Dust Pollution on Construction Sites: What Governments Do in China?' in Sustainability reviews China's national regulations and how governments can manage dust issues more effectively with tighter restrictions.
Furthermore, another study conducted in China, 'Field Evaluation of the Dust Impacts from Construction Sites on Surrounding Areas: A City Case Study in China', published in Sustainability, is a review of seven different construction sites in Qinyuan City. It highlights how dust control can be improved based on the data.
With construction everywhere, from Western Australia to Hungary, set to increase immeasurably over the course of this year, more research is required to mitigate the risks and recommend potential policies.
Construction site dust represents a gap in the literature that must be filled. MDPI welcomes the submission of manuscripts covering this topic. Please see the Sustainability Instructions for Authors.